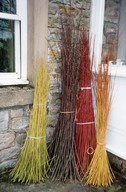 North Ormesby Primary School Living Willow Maze Project
"The living willow maze will provide a shaded area
?? for outdoor play, a habitat for wildlife and
??? environmental education for the pupils"
Joanna Paul, Deputy Headteacher, March 2004
Over 200 native trees have been planted including holly and silver birch around the school grounds with the help of unemployed trainees to screen the industrial views and road, creating a quiet wildlife area.
Pupils worked with local artist Steve Tomlinson to design mazes, A living willow maze was
planted and woven by pupils with expert help from Willowpool Designs.
This project has been developed by Middlesbrough REACT Project partners: Groundwork South Tees, The Tees Forest, Countryside Agency and Middlesbrough Council.
It is part of a larger programme to integrate tree planting and woodland creation into regeneration activities in Middlesbrough.
The willow maze project has been funded by: Neighbourhood Renewal Fund, North Ormesby
Neighbourhood Management and the Countryside Agency.